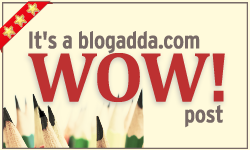 He stopped the car right before her, came out & asked
" Hey, may I drop you somewhere ."
" No, thanks, I am waiting for the bus ." She politely refused.Her dulcimer sweet voice kept ringing in his ear.
He was disappointed. He had gathered all his courage to ask the girl.How difficult is was for him to speak to her, but he did. What a journey it would have been. Love of his life by his side, pitter patter of rain drops & a long road ahead.
He drove away. After a few minutes, the girl saw someone coming towards her direction, completely drenched but making no efforts to escape the rain. The person came closer. He was the same boy who offered her  the lift. He came inside the bus stop.
" Well, actually my car broke down just half a kilometre from here ."
She smiled & looked away.
" What a fool I am. The car broke down. Ok, I am here. How do I start the conversation " His mind was buzzing.
" You gave a good speech today. It was really impressive, " somehow he started
" Thanks, Yours was good too. Especially the ending. Short & precise "
" Oh, she noticed, " he thought  "What now "
No talks for next few minutes.
" I don't think we will get a bus from here better we move to the next stop. Buses from other routes stop there. "
" I think you are right. I am waiting since last half an hour "
They started walking.It was still raining heavily.
" You are not carrying an umbrella. You can share mine " Girl said
" No, I ok . I will manage " He said " that's what I want, to walk with you, " he thought
" The bus stop is far &you  are drenched  "
" Ok, thanks ."  He looked up, as if to thank god.
" I will hold the umbrella for you " he offered. They were walking together. He never came this close to her. Her presence was intimating him. He could smell her perfume. He kept looking at her from the corner of his eye, the way he used to do during lectures.
It was a small umbrella hardly saving any of them from the rain. She started shivering a little.
" There is a small tea stall nearby. If you want, we can have a cup of tea there. "
" Ya, that will be good. It's really cold ."
They stopped at the tea stall. he ordered two cups. They sat inside the stall that was nothing but a small shop with a couple of chair & tables thrown around. Tea was served piping hot. He took his cup & took a sip. The girl was busy checking her bag. Her black hair spiralled over her shoulder. Her eyebrows perfectly arched looking down on her deep dark brown eyes. A drop of water dripped down from a strand of hair, slipping on her tender cheek & stopped just near her kiss-inspiring lips. His heart skipped a beat. He looked away fearing to be caught.
He couldn't help to look at her again. This time he was caught. He yelped.
" We must hurry up, Its almost dark. The rain won't stop anytime soon. " She said
" Yes, let's go ."
They hardly walked few hundred meters, lightening & thunder started. The umbrella broke & was of no use now. They dashed for cover. She couldn't see a pothole in the road & trip. The boy lunged  & hold her in his arms. Their eyes met. The rest of the world vanished. the  crashing sound of thunder, hammering of rain, lightening, all fell silent. Even she couldn't turn away her eyes. Something held her. He felt a sharp sweet ache in his heart. He wanted to freeze these moments for eternity. This time he didn't look away.
They took shelter under a giant tree. They were soaked to the skin. The girl looked worried.
" It's getting worst, how am I going to reach home. I don't think we are going to get any transportation from here " She muttered
" Let's go back to the tea stall. You wait there. I shall arrange something "
She did what was told to her. She was shaken by the events. Her heart still thumping. She kept looking down all the way back to the stall. The boy left & came back in his car after half an hour. He got out & opened the car door for her. She was surprised. Still she hopped in
" You said your car broke down "
"No, it didn't "
" So, u planned this "
" No, my love, I  prayed for this ". He looked deep in her alluring eyes. They vroomed together leaving " The broken umbrella "  behind, alone, as it has solved its purpose.